Our 'COP26 House' was built in 8 weeks on a site in central Glasgow, close to the site of the UN COP26 Summit conference. Led by architect and Passivhaus Deigner Peter Smith, the Beyond Zero Homes collaboration was formed by more than 20 companies passionate about showing how carbon-free homes can be built with minimal impact on the environment, throughout their life cycle. life.
Not only that, the Beyond Zero Homes ideology goes beyond zero carbon emissions – the 'COP26 House' demonstrates how carbon-free homes can be developed quickly and can also be beautiful, affordable, healthy and comfortable.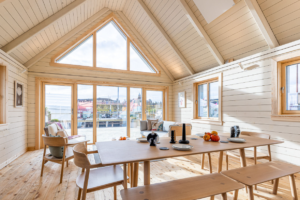 Designed specifically for the COP26 Convention on Climate Change, the 'COP26 House' is a wooden frame house built with ecologically responsible materials, where every detail of the design has been considered in terms of its environmental and social impact. After COP26, the house will be dismantled and moved to a site near Aviemore as part of a larger development of 12 affordable log houses.
Heating of the 'COP26 House' with Herschel Infrared
Herschel was delighted to join the Beyond Zero Homes collaboration as the primary heating solution for the project. Herschel infrared heating is an efficient, comfortable and elegant solution for all properties, and infrared heating is particularly well suited to the design of this home. The thermal insulation of the building is such that the expectation of heat demand is low. Low energy infrared panels were specified that work to heat the fabric of the building. As soon as the thermal mass (walls, floors, ceiling) is heated, it acts as a 360 ° radiator that stores the heat and subsequently requires less time than other heating solutions.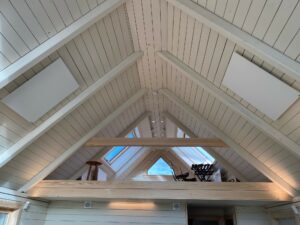 White panels and a mirror were installed in the house, all controlled by MD2 thermostats. Not only are they an efficient electric heating solution, infrared heaters are also an affordable solution that requires no ongoing maintenance. A quick-to-install, space-saving solution that is available in a number of stylish finishes (including white, mirror, squares, and glass panels) and also aligns with Beyond Zero Homes' principle of building healthy homes. Heating technology maintains a higher temperature in the building structure than the air, which reduces the creation of humidity. Associated moisture and mold problems are subsequently minimized to create a healthier indoor living environment.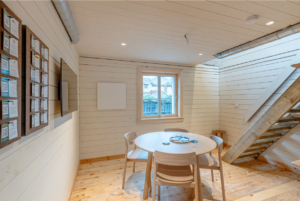 'COP26 House' exceeds the goal of the RIBA 2030 challenge
More recently, we are delighted that 'House COP26' has been cited as "an example of embodied carbon" in a lifetime embedded carbon assessment. One of the main objectives of the design was to minimize embodied carbon emissions and the evaluation shows that an outstanding result has been achieved.
When compared to a house of the same size and built according to RIBA's 'business as usual' standard, 'COP26 House' achieves a 59% reduction: 32,000 kg of carbon incorporated (COP26 House) versus 78,000 kg (benchmark usual commercial). Compared to the 2030 Challenge target set by RIBA, House COP26 achieves a 22% reduction, an impressive result.
See the interior of the 'COP26 House' with this video tour and 360 tour.
Video by: FourFifteen
360 degree tour: Beyond Zero Homes. Glasgow COP26 House (matterport.com)
As part of the COP26 event, it was fantastic to welcome the Fully Charged Team who filmed their episode of COP26 News from the COP26 House. See host Robert Llewellyn speaking here from inside COP26 House, the perfect setting for his Round-Up episode.
Herschel Infrared is part of the collaborative group Beyond Zero Homes which includes core partners – Roderick James Architects , Robertson Timber Engineering Ltd  and  Urban Union ,  NorDan ,  MEDITE SMARTPLY ,  Steico ,  Paul Heat Recovery ,  National Timber Group ,  Orluna Lighting ,  Fakro ,  EcoMerchant  and  Circular Ecology.